Gardeners & Landscape Supplies
We specialize in products for soil fertility and lawn, garden, and landscaping maintenance in Barbados. We supply a great selection of soil mix, as well as irrigation systems, garden plants from our extensive plant nursery. Because our plant nursery has such a great selection of garden and other landscaping plants, we offer a plant rental programme.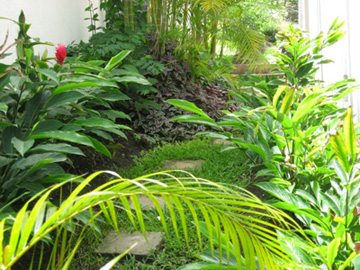 Topsoil & Potting Soil
We deliver pulverized topsoil, regular or non-screened topsoil and potting soil. We deliver Islandwide. Our topsoil is sought after by landscapers, farmers, gardeners, and homeowners all over Barbados for its high end quality. Our stock has many different topsoil options for you to select from. Contact us to let us know what kind of topsoil you need, and we can accommodate.
Garden Plants
We have an extensive selection of garden and landscaping plants available in our extensive plant nursery. Whether you want to buy or rent, you will find what you need, from drought tolerant plants, to beautiful flowers in baskets, and pots, to perennials and more. We have it all, just contact us to let us know what you need!
Irrigation System
Whether you're a DYI homeowner or a business needing a new irrigation system or replacement irrigation system, Rain Landscape & Property Development has what you need. We share our enthusiasm for our irrigation products and will provide tips and tutorials that will help you complete your irrigation project at your request. To learn more about our irrigation controllers, rotary sprinklers, pop up sprinklers, sprinkler nozzles, irrigation valves and more that we have in stock, contact us to provide us with details of your irrigation needs and we'll help you find the irrigation system you need.